ZERO ENERGY Homes
On Your Lot or Ours
Sunroc Builders has partnered with the Department of Energy (DOE) to build Zero Energy Homes in Sarasota and Bradenton, Florida.
A Zero Energy home will produce the energy equal to the amount it consumes in a year. This is based on 4 Adults in a 3 Bedroom House, for example. Our Zero Energy Homes are still connected to the grid, in order to have a consistent supply of power. When excess power is generated by the home, it is fed into the grid. When not enough power is generated, the grid will supply the needed power. Overall, the system is designed to consume "Net" Zero Energy each year.
In addition to the energy efficiency, there are many more advantages of a DOE Certified Zero Energy Certified Home:
Lower environmental impact
Locked in Energy Price - No more Electricity Increases!
Improved indoor air quality and overall comfort
Higher Resale Value
Efficient water & hot water
Lower Cost of Ownership due to More Durable Construction Techniques
ENERGY STAR Appliances & Lighting
3rd Party inspections
All of these benefits add up to home that is More Efficient, More Comfortable, More Durable and More Advanced than any other home available today.
Zero Energy Home Plans:
There are many home plans that are designed to be extremely energy efficient, located at EnergySmartHomePlans.com. Also, most standard home plans can be converted to a Zero Energy Home, during the Pre-Planning stage.
A ZERO ENERGY Sunroc Builders Home has the following features:

Solar Electric (PV) System
Sized to Provide 100% of the Power Needed (For example, 4 adults in a 3 bedroom house)
PV (Photovoltaic) Electric Panels with 25-year warranty
AC/DC Inverter with 10-year warranty
Grid Tied - Your Utility will provide electicity when you need it, and give you credit when you generate excess
Building/Array Site Assessment (Shading Study, Array Location & Inclination)
Structural and Safety Considerations (Upgraded Trusses, Fall Protection)
Homeowner Education (RERH Checklist, Documentation of items above)
DOE Zero Energy Ready Certified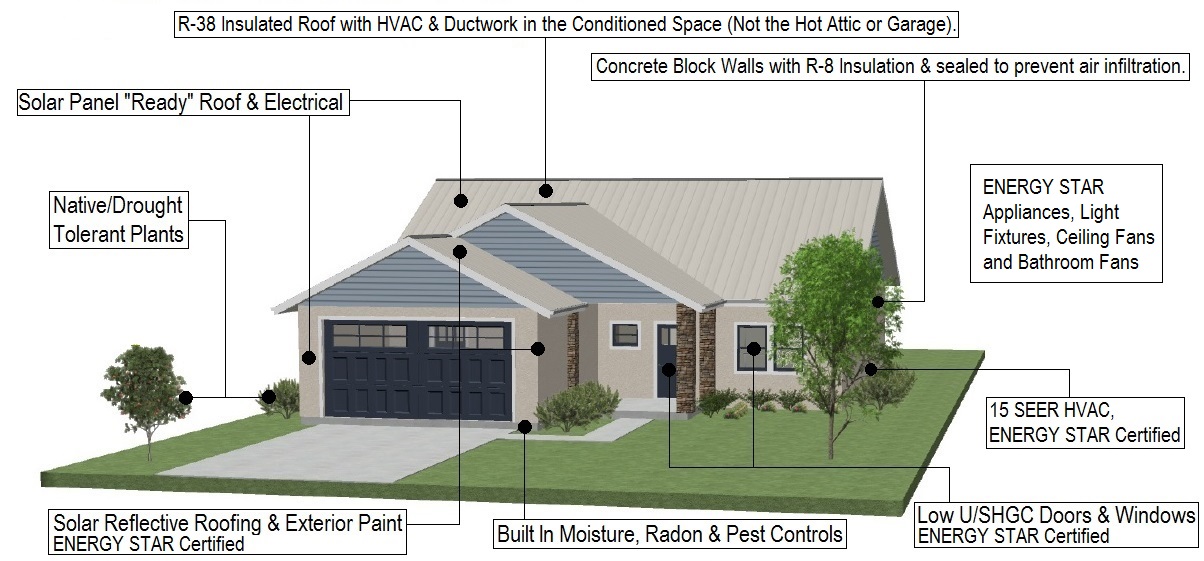 The following Mandatory Requirements for DOE Zero Energy Certified Home Certification are Verified by a Third Party RESNET Inspector:
1. Certified ENERGY STAR.
2. Fenestration and Insulation meets or exceeds the latest ENERGY STAR and Building Codes.
3. HVAC Ducts must be located within the home's air conditioned space.
4. Hot Water delivery shall meet EPA's Watersense requirements.
5. All Appliances must be ENERGY STAR, 80% of lighting fixtures are ENERGY STAR, and all ceiling & bathroom fans are ENERGY STAR.
6. Certified under EPA Indoor airPLUS.
7. Solar Power Certified.
For more info follow these links:

HERS Ratings:
HERS Ratings
are performed by third party RESNET Certifiers to verify the construction quality and rate the energy useage of a new home. A home built to standard code is 100. An ENERGY STAR home is around 85. A SUNROC Builder's ZERO ENERGY Home is Zero or less.
ENERGY STAR Certified
ENERGY STAR HVAC Installed by a Certified Installer
ENERGY STAR Windows & Doors
Quality-Installed Insulation
Fully-Aligned Air Barriers
Reduced Thermal Bridging
Air Sealing
For more info, follow this link:

Water Saving Features
High Efficiency Water Systems and Fixtures meeting EPA's WaterSense requirements
Heat Pump Water Heater with On Demand Hot Water Circulation System
Florida Friendly Landscaping
For more info, follow these links:

EPA Indoor Air Plus Certified
HVAC System Engineered with Filtered, Fresh Air Ventilation
Low or No VOC Paints
Cabinets that meet KCMA's Environmental Stewardship Council
Precautions for Moisture Control
No air handling equipment or ductwork installed in garage
Minimum MERV 8 Filter
For more info, follow this link:

Low Environmental Impact
To reduce the environmental impact of a Sunroc Builders Zero Energy Home, the environment is considered before, during and after construction.
Before Construction
, materials are selected based on environmental impact such as location and manufacturing techniques.
During Construction
, Low or No VOC construction materials are used, construction materials are minimized and/or recycled, and employees are trained in low environmental impact techniques.
After Construction
, By Generating 100% of the power needed for the home with PV, the environmental impact from one of our homes is minimal.
Below is the Emissions Summary Calculated by the "Energy Gauge" Program developed by UCF's Florida Solar Energy Center, for a Sunroc Builders Zero Energy Home:
(Click here for the full report)
SO2 = -0.84 Lbs
NOX = -0.39 Lbs
CO = -0.23 Tons

For more info, follow this link: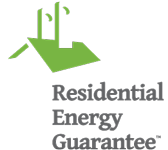 Energy Guarantee by Bonded Builders
An exclusive new program available to builders who construct and certify homes that meet industry standards for energy efficiency such as HERS®, Energy Star, LEED or National Green Building Standard.
The Residential Energy Guarantee from Bonded Builders Warranty Group is more than a promise, it's a guarantee!
For more info, follow this link: